La chute prochaine d'Assad ?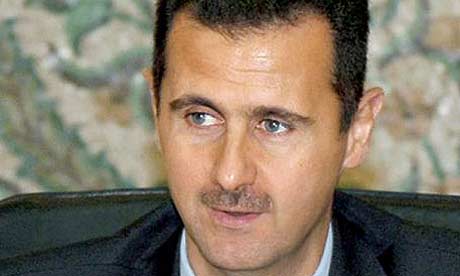 Auteurs Nir Boms, Erick Stakelbeck
Source Jerusalem Post (Israël)
Référence « The coming fall of Assad ? » Jerusalem Post, 18 mars 2004.
Bashar El-Assad a fait disperser brutalement des émeutes anti-gouvernementales dans le Nord de la Syrie et garde le contrôle des 22 millions de Syriens, mais pour les réformateurs syriens, il ne s'agit que du calme avant la tempête. Les émeutes avaient éclaté après l'arrestation de plusieurs avocats de la démocratie et d'un diplomate américain lors d'une manifestation organisée par les comités pour la défense des libertés démocratiques et des Droits de l'homme devant le Parlement syrien. Les autorités syriennes ont présenté leurs excuses pour la détention du diplomate, mais pas pour la répression menée ce week-end.
D'après des sources kurdes, la répression a fait près d'une centaine de morts et plusieurs centaines de blessés. Ce soulèvement a commencé lors d'un match de football dans le nord du pays entre le club de la ville de Qamoshli et celui de Fituwya, une ville proche de la frontière avec l'Irak. Les supporters du club visiteur ont commencé à chanté « Vive Saddam Hussein ». Les supporters locaux ont alors chanté « Vive Barazani » (le leader kurde irakien) et « Vive la démocratie ». Cela a dégénéré en bagarre dans le stade, puis dans la rue, où la police s'en est prise aux Kurdes. Les manifestations de soutien aux émeutiers furent aussi réprimées, une attitude condamnée par le département d'État et les Kurdes irakiens, qui ont menacé d'intervenir.
Lundi, les Kurdes syrien d'Europe ont tenu des manifestations devant les ambassades de Syrie en Belgique et en Suisse afin d'attirer l'attention européenne sur les massacres au moment où Bashar El-Assad tente de se rapprocher de l'Union européenne. Les Kurdes craignent surtout de voir se répéter les massacres de 1982 qui ont fait 20 000 morts.
Ancien fonctionnaire à l'ambassade d'Israël aux États-Unis, Nir Boms est vice-président de la Foundation for the Defense of Democracies et membre du Council for Democracy and Tolerance de Tashbih Sayyed du cabinet Benador Associates. Il est vice-président du Centre for Freedom in the Middle East .
Erick Stakelbeck est rédacteur pour l'Investigative Project, un institut de recherche sur le terrorisme basé à Washington.